Fancy a spacesuit, cosmonaut headset or space toilet? At an auction in  Canada today, you can take your chance and bid.
The items take their place alongside an eclectic selection of '20th century design' including paintings, scuplture and, er, model steam engines being sold by Waddingtons.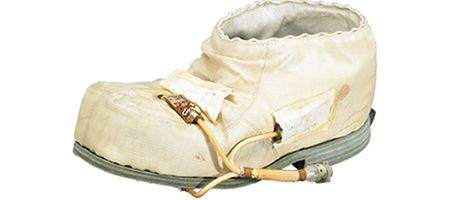 The space suit, worn by cosmonaut Anatoli Pavlovich Artsebarsky, is expected to make between $25,000 and $30,000, while the 'anti-gravity human waste disposal unit' is a snip at $6,000 to $8,000 – and unused, or so we're assured.
You can snap up a bit of the heat shield for as little as $150, or a rather fetching cabin lamp for $200. There's a left ankle boot (why only the one?) for around $1,500.
The items date from 1945 to 2005, and are being sold by a private collector.
"He purchased them over the course of 25 years from other private collectors and at auctions in Europe and in the United States. Originally, they were probably sold by the Russian government after the collapse of the Soviet Union and the financial crisis they had in the early '90s," evaluator Sean Quinn told the Canadian Press.
"This is a pretty significant collection in that we have so many actual pieces of spaceships. A lot of space auctions tend to have a lot of autographs and stamps and that sort of thing but we have a lot of actual artifacts from the Soyuz spaceships and many of those have actually flown, which is important, too."