If you have an iPod, you might be happy to know that Clarion developed a key-on-the-dashboard solution for the usage of your music device in your car.
It's not a simple iPod compatible car stereo, but rather a full car GPS stereo system. The MAX950HD consists of a DVD player, a 30 GByte harddrive, a 6.5″ colour touch screen that displays TV, DVD movies and GPS maps. The kit is iPod compatible, so you'll get all the information from your iPod on the large colour screen, and you can control your fave audio player straight from the touch screen. Sound-wise, expect nothing less than Cloud 9, since this in-car entertainment solution is DTS and Dolby 5.1 compatible. The amp pumps out four times 43 watts. Price of this set, without the iPod, is about $2800.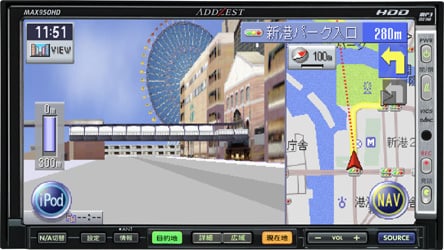 On the picture, you can see on the top right a movie playing while the GPS is guiding you to your destination. Quite amazing to see that this kind of picture-in-picture of use is possible. Everybody watches TV in their car in Japan, despite the fact that it's illegal to do so, for obvious reasons. Clarion did not say, when the system will make its way to the US.