Carlsbad (CA) – California will soon be home to a production version of the Aptera 2e (see TG Daily's previous coverage with pictures). The futuristic, all-electric, highly aerodynamic car will go on sale only in California for starting at $25,000, will have a range about 100 miles on electric alone (down from previous 125 mile estimate). Like Chevy's Volt, a 2010 model (revised from previous 2009 estimate) small gasoline engine will be available to recharge the batteries, extending that range.

The Aptera 2e will be the official name of what was previously known during development as Aptera Typ-1. Aptera 2e is a three-wheeled, highly aerodynamic two-seater design. The doors open up and the roof includes a solar panel for powering the ventilation system. Some of the specs have changed from this original Typ-1 design (see original specs as published in December, 2007).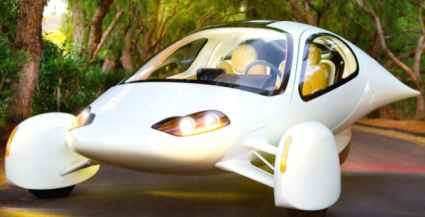 Note: See link above for additional images.
It has a 0-60 mph time of just under 10 seconds, a top speed of 90 mph and its energy consumption rate is equivalent to more than 200 mpg (compared to previous nearly 300 mpg estimate) using the standard EPA driving cycle. The company has received 4,000 $500 non-refundable deposit orders so far (up from 400 in December, 2007).
See Car and Driver for a new photo album.