Analyst Opinion – Yup, this is the time for gift guides and I am sure you will see plenty of them within the next four weeks. TG Daily will, of course, participate in this trend and soon publish what we believe will make special Christmas presents. But we also asked Rob Enderle to compile a list of not-so-ordinary gifts for those who have everything already.  We are sure these gifts will be remembered, some for a really long time.   

This is for that person who really wants a rich home theater experience.  ButtKickers are massive transducers that physically move what you are sitting on, adding that extra bit of reality to video game and movie explosions. This also has the added benefit of scaring the crap out of the pets that are in the room with you. The ButtKickers are wireless and connect to your sound system to supercharge your subwoofer and, well, kick your butt at appropriate moments. Price: About $400 at Amazon.
2. E-Holster Gadget Shoulder Holster

While you may want to be careful wearing this into a security line at the airport, e-Holster makes a line of shoulder holsters for gadgets. Its latest product allows you to put most of the stuff that has taken up residence in your pants pockets under your arm where only security guards will likely take notice. It is much manlier that any of the purse-like bags that have unsuccessfully been sold to men so far. It is actually very useful and gives the wearer a kind of a geeky James Bond feel. It costs about $70.  

3. Peak Handcrafted Professional Quality Starpex Guitar Hero/Rock Band guitar  

Guitar Hero is a ball to play, but you generally feel like a dork with the little plastic guitar that is typically used in the game. This $180 guitar has the look and feel of a real electric guitar and if people aren't looking closely, it looks like you are really playing. Half the fun of pretending in a game like this is feeling real and a guitar like this helps the realism significantly. There is nothing like a realistic fake guitar to get the blood moving and the folks competing for the high score.  Though, at $180, if you break this puppy it is going to hurt so you may want to hide it from little Johnny.

Read on the next page: Litter Robot, Tactical Alert Muffs, GPS Snitch, Ebike

While this isn't cheap at around $400, this is a small GPS device you can toss into someone's car or purse and use it to keep track of where they go during the day from the Snitch website.   Wonder if little Mickey is coming straight home from school or not? Well, pop one of these into his bag or car and know for sure. Or if you simply want to find out where some folks are going for lunch so you can join or stalk them, this device is for you. This definitely has a James Bond flavor to it.
I actually have one of these and it really works unless you have a monster 20 lb cat (one of mine won't fit in it.)  It is a rotating pod and it contains that wonderful smell that is certain to not increase the value of your home. In addition, it is kind of fun to watch as the pod rotates on a vertical axes to shift your cat's gifts into the toxic dump that is its base. To clean, you just open all the windows, put on a hazmat suit, open the drawer and replace the liner.  I'm kidding about the hazmat suit, but, depending on what you feed your cats, that drawer opening thing can be really special.  I should point out the web site has to be one of the ugliest I've ever seen and I've seen some bad ones. The product is strange, but works rather well. It's around $300.   
6. Tactical Alert Muffs with Tactical Amplifier and Radio

While designed for hunters or sports shooters, these ear muffs both protect against ear damaging sound and amplify the sounds around you. Kind of like having Superman hearing with a built in AM/FM radio you can use to listen to the TV while at the Gym or hook them up to your iPod (with optional cable) while riding around and still hear that Mac truck driving up behind you. It could actually save a life and they look impressive and probably will strengthen your neck as well. Around $120.  
This is far from cheap – running between $3500 and $4300 delivered – but it looks like a regular bicycle and has a top speed of between 20 and 30 mph, depending on configuration, and a range of more than 10 miles depending on how much you actually peddle the thing. Based on advanced military technology, this puppy does regenerative breaking and assures you can pass the best bicycle rider in the world while still talking on your cell phone. While not cheap it is green, and if you do peddle, it is actually good for you. I live in steep hills – without this thing, I wouldn't be riding a bike.  

Read on the next page: Infrared Stealth Goggles, Sub-Atomic, Disinterator Pistol, 1920s Keyboard  

8. EyeClops Night Vision Infrared Stealth Goggles

If you ever wanted to look like a Borg and see in the dark for cheap, these are for you. At around $70 they won't break the bank like most high end night vision goggles and they really look like you've already been assimilated once you put them on. Unfortunately, I like them which I find rather scary at the moment. They use a central infrared light source, which is what gives the device that Cyclops-borg-look.  

9. Rayguns Originals Manmelter 3600ZX Sub-Atomic Disinterator Pistol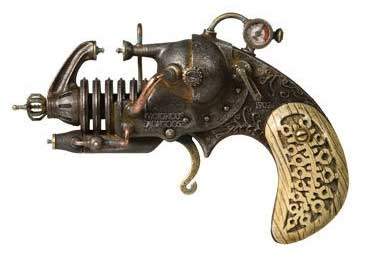 Ah, if only this were real. I bought an earlier version of this line which is made by an outfit that does movie plots. I have a script I work from when I show it off – about how it was developed and abandoned by the military and how I got it at a military surplus action by buying an unmarked case. You can create your own story and, at around $620, these pistols aren't cheap, but if you've ever wanted a real looking Flash Gordon type ray gun, this is for you. They are signed, numbered and actually come with a realistic case and cleaning kit.  
Because these are custom made, it probably is too late to get one of these now, but keep it in mind for next year.  At $1200 the keyboards are expensive, but if you want real craftsmanship and have a yearning to see what a computer keyboard might have looked like if it was built in the 1920s, this is an incredibly cool gift and it is built to last a lifetime. It is worth going to this site and just wondering around.  This guy just does fabulous work.   
Rob Enderle is one of the last Inquiry Analysts.  Inquiry Analysts are paid to stay up to date on current events and identify trends and either explain the trends or make suggestions, tactical and strategic, on how to best take advantage of them.  Currently he provides his services to most of the major technology and media companies.