During the past half-decade of iPod frenzy, we learned that you can put an iPod dock into almost anything and we got used to the letter "i" as a prefix on anything even remotely connected to Apple hardware. Here is another one.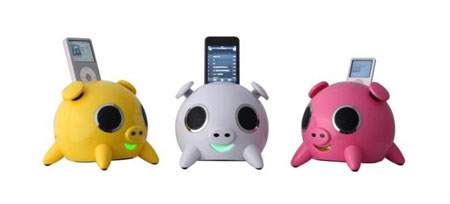 Speakal released the iPig, a device that is just a plastic pig that contains five speakers in 4.1 configuration. Total RMS power is only 25 watts, but the company is trying to pitch teh device with "premium watts" and "premium sound". Good for them. If you have a friend that is boring you with his Apple-this and Apple-that stories, iPig might be appropriate gift for the  back-to-school period.
Of course, you can connect the iPig to an Xbox or Playstation, PSP, TV or just about anything that can supports a 3.5 mm audio connector.
No word on pricing yet.