Analysis – Two weeks ago, Toshiba announced its withdrawal from the HD format war and that it would clear out its inventory by the end of this month. It's time to have a closer how this decision has retail prices for both Blu-ray players and HD DVD units.

Loss of competition rarely means good news for the consumer and that certainly is true in the recently called format war battle. If you aren't especially interested in the outgoing HD DVD players, which retailers are trying to get rid of by the end of this month, Blu-ray could remain very pricey for some time to come. Average retail prices of Blu-ray players showed little impact and the majority of devices on the market are und a slight upward price curve, TG Daily found.
According to pricegrabber.com, average HD DVD player hit new record lows today with reported prices of $102 for the 720p HD-A3 model and the $137 for the 1080p HD-A30 version. Supplies of the high-end HD-A35 are running out, which means that average prices are somewhat high at $272.
Blu-ray players, on the other side, have been very stable since the beginning of the year, with the exception of the hybrid HD DVD/Blu-ray player LG BH200, which has dropped more than one third from $999 to currently $629 in U.S. retail.
If we are putting these numbers into charts, the price decrease becomes apparent. HD DVD saw its most significant drops on January 14, when Toshiba announced substantial price reductions and on February 19, when the company announced that it would cease production of the players. The dramatic price drop, players are currently selling for as low as $89.99, apparently allows retailers to clear their inventory – Amazon currently lists the HD-A35 as its second most popular DVD player product, the HD-A3 follows at #8 and the HD-A30 at #21. The most popular Blu-ray player on Amazon, Sharp's BD-HP20U, is listed at #18.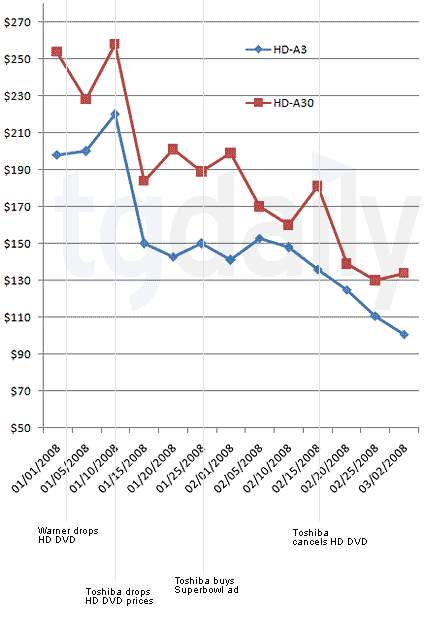 Read on the next page: Blu-ray trends
Blu-ray trends
Blu-ray players showed no direct impact of the HD DVD shutdown, with prices remaining stable and trending lightly upward. Sharp's BD-HP20U, Sony's BDP-S300, Panasonic's DMP-BD30K as well as Samsung's BD-P1000, which is not listed in this chart, show increasing average retail prices. The only Blu-ray currently experiencing decreasing average retail prices Sony's BD-P1400: It is currently the cheapest standalone Blu-ray on the U.S. market, according to pricegrabber.com.
If we combine the HD DVD player and Blu-ray player graphs into the chart, it becomes apparent, how easily Blu-ray manufacturers apparently sailed through the first two months of this year, while HD DVD lost a seemingly dramatic battle. While HD DVD player prices were dropping, Blu-ray prices were trending upwards.
There is little hope that Blu-ray player prices will be coming substantially in the next six months. If you are planning to purchase a Blu-ray player soon, you should plan on spending at least $350 – $400 on such a playback device. There is no doubt that prices will come down over time, but industry sources currently indicate that those sub-$300 players won't be available until Christmas.