Las Vegas (NV) – If you are tired of connecting USB cables or using card readers to transfer photos from your digital camera then Eye-Fi has the perfect solution for you. The card fits in any SD card slot and has 2 GB of internal memory along with a 802.11 b/g transmitter. Simply shoot a picture and the file is instantly beamed to your PC or Mac. At the PMA 08 show in Las Vegas, we popped the card into one of our cameras and gave it a spin.
You don't need to change any settings on your camera and you take the picture as you normally would. On the computer side, you install the software that comes in the Eye-Fi package. Essentially the software creates a shared folder that the card can stuff files into.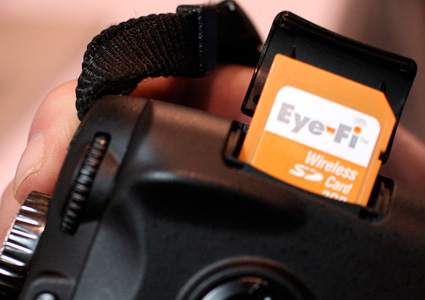 After we took the picture a small thumbnail appears in the upper-right corner of the computer monitor. A progress bar is also shown. After a few seconds, the complete image is displayed on the screen. Since we were taking a 10 megapixel image, the transfer did take a while, but company reps told us that there were several wireless networks in the area all vying for the same bandwidth. A typical transfer should only take 3-5 seconds.
The Eye-Fi card is available now for $100.