New York (NY) – Garmin, known for its navigation devices, today announces its entry into the cellphone market. And as you might expect, the "nuvifone" is heavily focused on GPS navigation capability.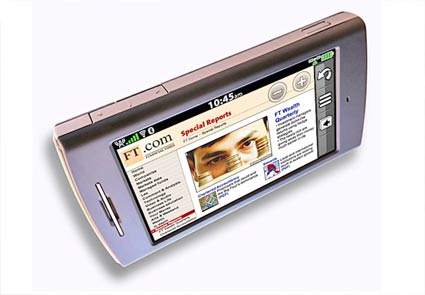 Garmin's first cellphone is scheduled to be released in the third quarter, and look, judging from the first images released, like a mix between an iPhone and one of the firm's portable navigation systems. The nuvifone integrates a 3.5" touchscreen, offers GPS and HSDPA 3G capability, includes a digital camera and comes with a software suite you would expect from such a phone: There's a media player, Google's local search feature, a web browser and email functionality, as well as support for text and instant messaging.
The main screen of the nuvifone has only three icons Call," "Search," and "View Map". It's not surprising that Garmin has added a few navigation tricks to its nuvifone: For example, the phone automatically turns itself into a portable navigation device when you put it into its vehicle mount. Maps for North America, Eastern and Western Europe, or both, will be preloaded onto the nuvifone. There's also a "Where am I?" feature that enables users to display the exact latitude and longitude coordinates of their position, the nearest address and intersection, as well as the closest hospitals, police stations and gas stations.  
Information about pricing and carriers supporting the phone has not been released.