San Francisco (CA) – The second day of IDF kicked off with an extensive presentation of the company's upcoming mobile products and Intel's Mobile Internet Devices – short "MID" – platform took the center stage. The big news: Intel apparently is planning without Microsoft and uses Apple's iPhone design as a template for second-gen MIDs that will also offer traditional cellphone features.

Some may have seen Intel's rather surprising MID direction coming – in fact, in an article we published in May of this year, we already noted that the initial MID platform code-named "Menlow" will bring a big departure from previous product strategies for Intel. The MID itself appears to develop more and more into a product the UMPC was promised to be – a connected mobile Internet companion device for voice and data communications that fits in your pocket just like a cellphone.
Compared to the UMPC, the MID has a completely different product strategy: MIDs are likely to cost about half of what UMPCs (which are likely to replace some tablet PCs down the road) and instead of trying to run Windows Vista on a smallish screen with an overwhelmed mobile processor, Intel is designing a much more streamlined system. While there was no definite word on what software will be used in MIDs, every single MID on stage ran Ubuntu Linux (as did the first MID shown at IDF Spring) – and not Windows Vista or Windows CE. Intel representatives maintain that they "keep working with other partners"; however, Ubuntu Linux is presented as the standard OS for MIDs at this time.
Mark Shuttleworth from Canonical, the company behind Ubuntu, was on stage and highlighted that Linux on MIDs will provide developers the ability to customize software features integrated in these mobile devices.
The hardware of MIDs will be based on Intel's Silverthorne processor, which is promised to be about as fast as a 90 nm Pentium M processor with Dothan core while consuming substantially less power. In a demonstration on stage, idle power consumption hovered slightly above zero and when maxed out with an anti-virus check, the CPU was shown to be consuming 0.55 watts.
Silverthorne, part of the Menlow platform and due for release in the first half of 2008, will also be Intel's first processor that focuses on stronger economical advantages, which could allow Intel to offer the chip for much lower prices: A 300 mm wafer holds 2000 Silverthorne CPUs and Intel chief executive Paul Otellini previously mentioned that a Silverthorne processor is about as cheap to produce as a 286 chip.
Intel also provided a first glimpse of the successor of Menlow and a SoC-design code-named "Moorestown". Scheduled for a H2 2008 release, Intel showed a prototype MID that resembled the look of Apple's iPhone. About twice as wide and similarly thin as the original, the Moorestown MID clearly used the iPhone as design template. The model shown on stage integrated a touchscreen keyboard located on both sides of the screen. When the keyboard is deactivated, the full-width of the screen can be used for photo viewing, video playback or web browsing.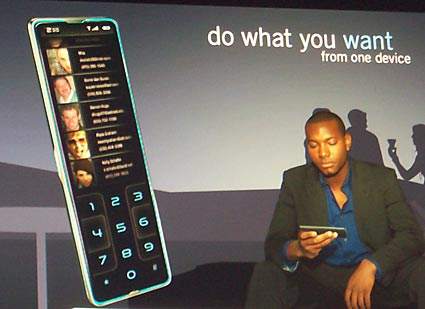 Intel declined to provide further details on Moorestown and told reporters that it will have more to say about the platform at the Spring IDF next year.
Read all stories from TG Daily in our IDF Fall 2007 Wrap-up.