Frankfurt (Germany) – Even performance car maker Porsche follows the trend to more environmentally-friendly cars and exhibits a hybrid version of its Cayenne SUV at the IAA tradeshow in Germany.


Porsche buyers aren't exactly known as people that really worry about how much gas they consume while driving their cars. That is especially the case when it comes to the Cayenne sport utility, which – in its Turbo version – may only yield 6 mpg when driven hard, according to a recent test of German car magazine Auto Bild.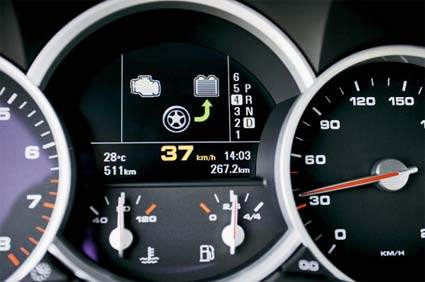 A hybrid version of the Cayenne may help to improve the car maker's image. The company has been preparing a hybrid SUV, which is currently shown to the public in Frankfurt. The Cayenne hybrid combines the base 3.6 liter V6 engine with 280 hp with a 52 hp electric engine, which is driven by a 240-cell battery. According to Porsche, the electric system is strong enough to propel the car to a speed of about 75 mph. Beyond that, or if strong acceleration is needed, the regular combustion engine will kick in.
Porsche claims that the Cayenne hybrid can achieve a gas efficiency rating of 28 mpg, which is impressive in consideration of the SUV's expected curb weight of more than 5000 pounds. Pricing and expected availability of the hybrid have not been announced.
There was no information on the performance abilities of this car. But then, if performance counts, the average Porsche buyer is likely to look for something else. And for this group, Porsche introduced the Cayenne GTS. This new version is based on the Cayenne S with the 4.8 liter V8 with 385 hp. In the GTS, this engine makes an additional 20 hp for a total of 405. In Germany, Porsche will charge for the GTS about $105,000 which is a premium of about $13,800 over the Cayenne S.