Chicago (IL) – It is our final processor price/performance article before Christmas, and just because the big day is right around the corner, it doesn't mean we're going to skimp out on this week's installment. In fact, we've added AMD's 4×4 processors to our ranking. The FX-70 FX-72, and FX-74 pairs have been added, and you may be surprised how they affect AMD's overall position.
Before we jump into this week's price/performance analysis, let's do some house-cleaning first. Several readers have asked us how we calculate the performance index of processors. We gave a brief explanation of this in our original article, but will run it again here and add it as a permanent piece page of every price performance article in the future. Your feedback is highly appreciated, as it helps us tremendously to make this series more useful to every reader.
The relative performance index value is calculated by taking a relative sample of benchmark data recorded by Tom's Hardware. We have logged the benchmark data for the following categories for each of our processors – AVG Antivirus, Quake IV, Clone DVD, Lame MP3, PCMark 2005 CPU, and Windows Media Encoder. We then translate the numbers from each test to a relative scale based on the data for our baseline processor, the Pentium 4 520, and then compute an average of all five numbers to create one relative performance index level for each processor. Thus, a relative index of 1.9 is, on average, 1.9 times more powerful than the Pentium 4 520.
There is also a "relative price" column, which indicates how much a processor should cost, if cost increased with performance on a linear level. Traditionally more performance always meant substantially higher prices on a non-linear, but exponential level. As we are still experiencing the after-shocks of this-year's dramatic price drops, you'll see quite a number below the linear level, while the fastest processors and processors in constrained supply more the patterns we are used to.
Also, we still have not received data for the Intel E6300 processor. We expect those to come in sometime in January, so please bear with us a couple more weeks. Also, we do expect AMD's 65 nm processors, as well as the X2 5400+ and 5600+ versions (comparable to the FX-62) available as well as Intel's 2.4 GHz quad-core Q6600 in January.
Read on the next page: Prices as of Dec. 22: AMD's sort-of-quad-core for $380
Prices as of Dec. 22: AMD's sort-of-quad-core for $380
On the heels of AMD's new products, prices of its preceding processors continue to drop. It really has been quite an interesting trend to watch. This week, with the exception of the 4200+ (the only AMD processor to increase in price this week), every single processor set a new record low in our 12-week-long series of data. The FX-62 saw the biggest decrease, marking an 8%, $55 drop in average e-tail price over last week, the biggest decrease for the FX-62 that we've recorded. With a price of around $650, the CPU is heading into a territory that we expect to see for the essentially identical X2 5600+ processor.
Click to enlarge
However, perhaps most significant is the 3800+, which was the only processor in our entire set of data to still hold on to our original recorded price on October 6 as the lowest price. Today, though, finally marked a new record low for the 3800+ after an 8%, $14 decrease from last week's $166 to $152. Prices most of the other processors continue to fall.
The only record low seen on Intel's side this week is the Pentium D 940 after a minimal decrease, again just riding the coattails of last week's record low. Another major decrease, though not setting a new record, is the QX6700. After three weeks of price increases, it fell this week to mark a 9%, $104 decrease, the biggest week-to-week drop we've seen for the processor.
Other than that, though, Intel's trend this week was a bump in prices. Both Extreme Editions, the D960, and the D950 saw substantial price increases. The D950 actually marked the largest relative price change, with a 16% increase, which also set a new record high for our records for the D950's average price. Intel's volume Core 2 Duo series processors have settled in a very stable price range with virtually no changes at all.
Read on the next page: FX improves AMD's price/performance curve
FX quad improves AMD's price/performance curve
For the first time since our first installment of the weekly charts in October, we can see a huge graphical change, thanks exclusively to the new FX processors added to the list. That may come as a surprise to some, as the performance of the dual-core processors, sold only in pairs, was rather disappointing in Tom's Hardware's first benchmark. But combine the added performance with a very low price and you have a winner. In fact, the impact is large enough to drop most of its price curve below Intel's combined (900 series and Core 2 Duo series) curve.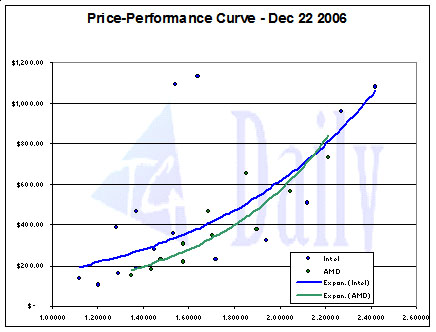 Click to enlarge
Clearly, though, it is not a huge leap. The distance between the two trendlines is quite slim. A main reason for AMD's lower curve is the large amount of price decreases over the past few weeks. So how did the new processors affect AMD's price/performance correlation? It caused it to fall a bit from last week, down 1.8% from 0.925 to 0.908, which is still obviously a very high correlation, and of course the fact that it caused the trendline to dip is more important to the consumer than a minimal decrease in its correlation value.
Intel's correlation also fell, to a new record low for our weekly charts. It fell to 0.607, down 4.9% from last week's 0.638. Since November 10, we've logged six weeks with correlation decreases and only one week when it went up. Unlike AMD, when we usually see price shifts similar across the board, there's just been no big trend for Intel. Prices just seem to jump around.
Click to enlarge
When we cut the Intel data into separate trendlines for the low-end and high-end groups, we really get to see what is happening between AMD and Intel as a result of the new FX processors. Unlike previous weeks, where this image saw AMD sandwiched virtually perfectly in the middle of the two Intel lines, it is curving drastically to the right with the addition of the FX-70 series. However, the Core 2 products from Intel still outpace AMD on an average performance-per-dollar scale.
Of course, our charts do not recognize the major downside of AMD processors. Keep in mind that the added performance of an FX package comes at twice the power consumption (or about 250 watts) of the single dual-core FX processors.
Correlation-wise, it's interesting to see that Intel's separated trendlines have similar values to what we saw last week. The Pentium line saw a correlation of 0.777 this week, actually up to last week's 0.754. The Core 2 processors ranked in at 0.915, exactly the same as last week. So the prices within these groups changed such that they didn't negatively impact the intra-group correlation, but caused a downward swing when we look at all the processors together.
AMD's processors do not pose a real material threat to Intel's QX6700 and EX6800 processors, especially with the overclocking potential with the former. However, it does at least put AMD on the high-end map. We will have to see if this downward price swing continues for AMD, or if they will rebound back up after the novelty of the new processors wears off.