Chicago (IL) – Viewsonic apparently will be making another step into the mobile PC market with two webpads nearing completion. The Viewsonic V212 and V212x are based on an Intel (Marvell) Xscale PXA270 processor with a 520 MHz Bulverde core. The system uses a 10.4″ screen with a resolution of up to 1024×768.
Similar to the V210 predecessor that we saw at this month's Electronic House Expo, the 212 is a mobile touch-screen tablet PC that includes Windows CE 5.0 and a docking station to connect to a notebook or desktop PC.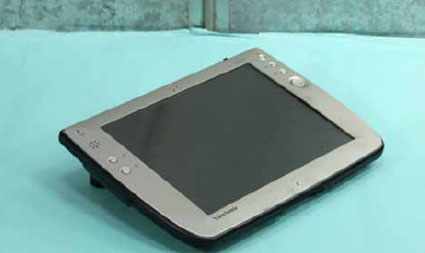 The devices support 802.11 b/g wireless connectivity and come with a set of preinstalled software that includes Internet Explorer, Media Player, Wordpad, Solitaire as well as viewer software for Microsoft office applications. Storage capacity is limited to a 64 MB NOR Flash unit, which will be pretty much exhausted by storing the operating system as well as the system's applications.
In addition to the touch-screen interface, there are buttons on the front of the device that allow manual controls, as well as a one-touch launch of the Web browser and the power button. However, the V212 and V212x do not appear to be content creating devices but rather devices to view Internet content as well as files that be accessed via an integrated CompactFlash slot.
Viewsonic promises a battery life of about 6 hours.