Chicago (IL) – AMD remains very secretive about its two-processor 4×4 platform, which aims to decrease the performance gap to Intel's dual-core and upcoming quad-core processors on the very high-end of the enthusiast PC segment. A new roadmap provides more insight in the firm's CPU plans for the next year or so – and indicates that AMD is collecting enough CPU supply to launch 4×4 on a broad basis.
There have been very few product launches by processor manufacturers lately that have been covered in as much smoke as AMD's highly anticipated 4×4 platform. System builders as well software makers who typically talk very open about such upcoming products deny to share their expectations from the AMD 2-CPU approach. There also has been some speculation recently that AMD may not be able to keep its promise and send enough 4×4 platforms into the channel to be part of the holiday frenzy this year.
A new roadmap obtained by TG Daily, however indicates quite the contrary and the suggests that AMD may be collecting enough supply of new and high-end processors to launch 4×4 almost as a mainstream product and become more available than Intel's quad-core processors QX6700.
4×4 is apparently well on track to be launched in November with FX processors that are based on the new 1207 socket and the 90 nm Windsor FX core. Samples already have been shipped and appear to be in mass-production at this time. The lineup consists of the FX-70 (2.6 GHz), FX-72 (2.8 GHz) and FX-74 (3.0 GHz). In the second quarter of 2007, AMD will add the FX-76, which will be the last 90 nm high-end desktop processor with a clock speed of 3.2 GHz.
Illustration of AMD 4×4
The Windsor FX CPUs will continue to use a 2 MB L2 cache package and will be rated at a thermal design power (TDP) of 125 watts, which – at least theoretically – puts a 4×4 platform at roughly 250 watts, or about twice the maximum power of Intel's Kentsfield (desktop) and Clovertown (workstation/server) quad-core processors. The currently shipping FX-62 and FX-60 will not support 4×4 and will be phased out by the end of this year.
The enthusiast segment will get more interesting for AMD once its "native" quad-core processors are available. While it is not expected that the single-die quad-core approach by AMD will not yield any substantial performance gains over a dual-die quad-core approach (Intel), AMD will be able to decrease power consumption to restore headroom for more clock speed. The quad-core chip code-named "Agena" will be segmented in more mainstream "Agena" processors and enthusiast 4×4 capable "Agena FX" chip.
Agena FX CPUs are scheduled to launch in Q3 of next year, will be produced in 65 nm, run at clock speeds between 2.7 and 2.9 GHz and incorporate 2 MB L2 and 2 MB L3 cache. The power consumption of these processors has not been determined yet, but is likely to remain at 125 watts for a single chip and considerably more 2-processor 8-core platforms. It is unclear whether AMD will keep the socket 1207 alive, as the current roadmap designates the Agena FX socket as "1207+". The regular Agena will be available with identical specifications but may also transition to a different "AM2+" socket.
89 watt Kuma processors joins AMD's dual-core lineup in 2007
Agena will be positioned on the very high-end of AMD's desktop segment, but dual-core processor will move deeper into the mainstream next year and dominate the firm's processor lineup.
In the fourth quarter, AMD will launch the Athlon 64 X2 6000+ (3.0 GHz), 5600+ (2.8 GHz, 2 MB L2) and 5400+ (2.8 GHz, 1 MB L2). The new high-end version will consume 125 watts, while the 5600+ and 5400+ will be rated at 89 watts. The currently shipping 5200+ and 5000+ version will transition from 89 watts to 65 watts in the first quarter of next year and a new 35 watt low power variant of the 4200+ (2.2 GHz) will be added in the same time frame. The higher-end models will be available for order on 20 November, while the 5000+, 4800+, 4400+ and 4000+ will follow on December 5.
AMD will be introducing 65 watt processors beginning late this year. The first processors with 65 nm "Brisbane" core will be the 5000+, 4800+, 4400+ and 4000+ models, which are rated at 65 watt TDP. On the higher end, a 2.8 GHz 5400+ model and a 2.7 GHz 5200+ version will be added in the second quarter of next year. These two processors will decrease the power consumption on the high-end of the mainstream from currently 89 watts to 76 watts.
The transition to 90 nm will not happen as rapidly as promised by AMD. 90 nm Windsor cores will be in the channel over all of 2007 (ranging from the 6000+ down to the 3800+). The models currently scheduled for a phase out over the coming months include the 89 watt versions of the 4600+, 4200+ and 3800+. 65 watt and 35 watt variants will remain available at least until Q4 2007.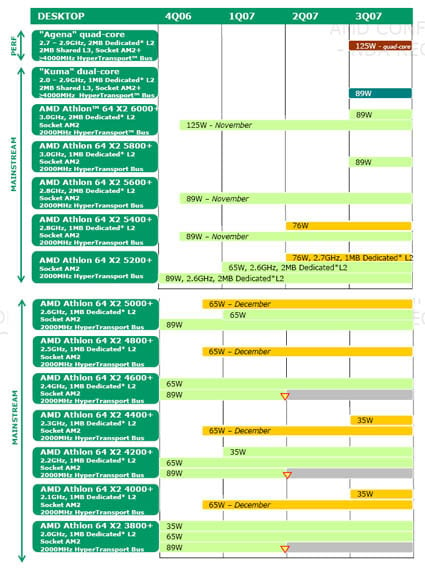 AMD's mainstream dual-core line-up for 2006/2007
The same applies to the majority of AMD's single-core Athlon 64 processors. 90 nm 4000+, 3800+ and 3500+ processors will remain available as 62 watt AM2 versions, while the 67 watt socket 939 variants will be dead by the end of the year. The lower end 3000+ and 3200+ AM2 processors will retire in March of 2007. Early in 2007, AMD plans to introduce a 65 nm, 45 watt single-core processor code-named Lima, which will be clocked a 2.4 and 2.2 GHz and complement the current 3800+ and 3500+ versions.
The entry-level Sempron line will see little change and also receive a 65 nm addition (Sparta core) in the third quarter of next year. The new processors will be rated at a TDP of 35 watts (down from 62 watts today) and arrive as Sempron 3400+, 3500+, 3600+ and 3800+ versions.