Canon has released two new high-definition camcorders capable of recording videos in 1440 by 1080 (interlaced) resolution. The Canon XH A1 and XH G1 models both have triple CCDs and can record at several frame rates including 60i, 30P and 24P. There is also a 20x HD zoom lens and dual XLR audio jacks taht come with both camcorders.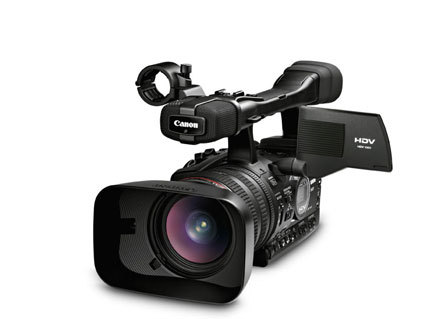 The included 20x zoom lens uses much of the same technology as Canon's photography lenses. As in Canon's high-end "L" zoom lenses, both fluorite crystal and low-dispersion glass is used in the lens elements. In addition, the company integrated optical image stabilization that reduces camera shake. Canon claims the new camcorder can focus "instantaneously" because of a new external focusing sensor.
The XH A1 is aimed at the prosumer, while professionals may want to consider the XH G1 model. The G1 includes a "Jack Pack" which has HD-SDI, Genlock and Timecode ports. HD-SDI lets video pros output uncompressed HD video at 1.485 Gb/s to an external recorder or preview monitor. The timecode and Genlock ports both help with multiple camcorder shoots.
The XH A1 will be available in October for $4000, while the XH G1 will sell for $7000 in November.