See the PowerPoint 2007 slide show here…
Boston (MA) – Easily the most used presentation development tool on the planet, Microsoft PowerPoint hasn't seen a significant upgrade to its functionality or its basic engine since the Office 2000 version. But with Office 2007 Beta 2 now fully underway, the company's senior product manager for the Professional Plus suite, Mark Alexieff, showed off the completely rewritten graphics engine for PowerPoint 2007, along with its much-anticipated ribbon control, in a demonstration for TechEd last Friday.
"In our product support process and…our usability testing, we've seen lots and lots of documents that people are creating in the course of their everyday work," Alexieff explained to attendees. "And we look at them year after year, and they haven't changed a whole lot in the last ten years. They look a lot today like they did ten years ago. And yet there's a lot of color printers out there, high-definition LCD projectors – there's a need to have better, more compelling looking documents, and we wanted to make it easy for people to do that.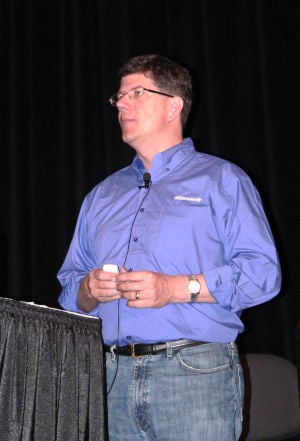 Microsoft senior product manager Mark Alexieff.
"But why did we have to make it so different?" he asked, surprisingly more frankly than rhetorically. "Couldn't we have just re-arranged the menus in a more appropriate fashion, and couldn't we have designed the dialog boxes that provide access to that functionality in a better way? Well, we took a real hard look at it, and the answer is no." He demonstrated a screenshot of the very first Word for Windows 1.0, for the operating environment then called Windows/386. It was clean, simple, and straightforward, with about 50 total commands. It was easy enough to browse through that system to find the commands you were looking for.
Over time, however, with more and more things being appended to Word, the total number of commands became over 250 for Word 2003, within the same basic set of menus. Since it became harder for users to find commands, Alexieff admitted, "we find other places to put commands: in toolbars, [for instance], in task panes. The number of these user interface devices has grown tremendously as well. We're up to 30+ toolbars in Word 2003, and 18 task panes. So what this means is, you've got a lot more places to look for commands, and that gets frustrating and time consuming."
But Word 2003 didn't look that cluttered or confusing…on the surface. "It's a little bit like the way we used to clean our apartments when we would have someone come over – say, our parents. We'd take everything and shove it out of the way – put it under the bed, put it in the closet, we fill drawers." When the user returns to his regular habits, however, Word 2003 can look about as junked up as your real-world office.
"I work on this product," Alexieff pleaded, "and I've got toolbars that I don't know how they got there. It's called accidental customization, and…look how little space there is to work on the document!" As he demonstrated, such accidental tools clutter themselves around the rim of the user's workspace, and work their way inward toward the center. (I'm guilty as charged, by the way.)
In our latest slide show, Alexieff demonstrates how these changes radically improve PowerPoint. Then, he'll show you how you can get inside an Office Open XML document using the programmability features of the .NET Framework.