Tokyo (Japan) – Elpida today said that it has begun shipping samples of next-generation DDr3 memory to Intel. Commercial volume availability of the memory is not expected to arrive before the second quarter of 2007.
Elpida is one of the first large memory manufacturer that has announced sample availability of DDR3 memory modules, which are expected to succeed DDR2 memory with clock speeds of at least 800 MHz. According to the Japanese semiconductor company, the modules have shipped as dual in-line devices (DIMMs) with 512 MByte and 1 GByte capacities and a clock speed of 1066 MHz.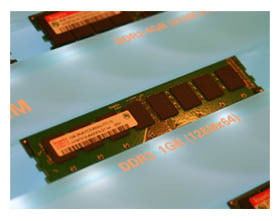 DDR3 takes an evolutionary approach over DDR2. First prototypes of the technology were displayed at the Recent Fall Intel Developer Forum in San Francisco where Elpida, Hynix and Samsung demonstrated their commitment to produce DDR3 devices. The firms expect 800 MHz to serve as bridge speed to transition from DDR2 to DDR3 and are likely to take a more careful approach when switching to the new technology. Company representatives conceded that initial adoption estimates for DDR2 had been to optimistic and DDR3 may take a slower introduction path than DDR2.
Elpida believes that DDR3 will carry the SDRAM industry from 800 MHz up to 1600 MHz clock speeds. Poser consumption of the devices is expected to decrease as much as 17 percent as voltage will decrease from 1.8 to 1.5 volts. Pure performance is expected to be on par with DDR2 at similar clock speeds, as latencies will be changing from a 5-5-5 rating for DDR2-800 to 6-6-6 for DDR3-800. New features of DDR3 include auto-calibration on the output buffer for high speed interface operation and interrupt reset for system flexibility. Servers and notebooks are expected to be the first adopters of DDR3 memory.
Elpida said that it will make samples of DDR3 modules available to all customers sometime in 2006. Volume production will "begin in accordance with market demand," but there is currently no memory manufacturer that expects DDR3 to become a mass market trend before the second or third quarter of 2007.