In today's highly competitive desktop PC market, consisting of copious amounts of firms producing virtually homogenous products, he who controls the majority of the market reigns supreme. Realising this, ABIT has recently set its sights on Australia, ensuring that consumers worldwide are able to purchase its products. Having recently recruited marketing guru Scott Thirwell – previously a DFI employee after leaving ABIT just over a year back – this does not come as much of a surprise.
To get the ball rolling, ABIT in conjunction with popular Australian hardware enthusiast magazine, AtomicMPC, decided to throw a LAN party – dubbed TequiLAN. As per usual, THG was in full force at the event, and thus we decided to prepare a short write-up to spice up today's news. The choice to refrain from the usual, mediocre speech-after-speech press launch was a welcomed decision indeed, and the various product demonstrations on show were also quite interesting.
The pre-LAN festivities started with a number of talks and product demonstrations, including one from ABIT marketing manager Scott Thirwell, followed by a talk from VIA PR rep John Gatt. Put simply, each spoke about their companies' latest products, Scott's being primarily the IC7-MAX3, AI7, KV8-MAX3 and the DigiDice, and John's being the VIA K8T800 chipset. As you can see, AMD's Athlon64 was certainly the most talked about platform of the night.
If you look closely, you can just make out Scott's head in the center of the above image. Next up, here's a shot of Abit's booth jam-packed with all of the company's latest wares: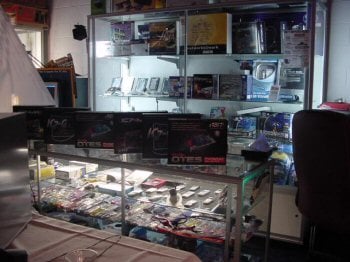 …and one of its much talked about DigiDice mini PC's equipped with an ultra-fast GeForce FX 5900 graphics card as well as the ability to overclock the unit simply by rotating the dial located on the front of the bezel. Furthermore, the useful and attractive back-lit LCD was also a nice touch, displaying all sorts of information including temperatures, memory/cpu usage, the system clock and more.
Creative was also in attendance, showing off its sound card and speaker range, however, this was nothing that we haven't seen before.
Finally, a few lucky attendees got the chance to frag the night away on a pre-release build of THQ's WarHammer 40,000 Fire Warrior – a first person shooter based on the popular Game's Workshop tabletop game going by the same name. Although we didn't get much of a chance to extensively sit down with the game (we only had the opportunity to play multiplayer, in fact), the time we did spend with Fire Warrior showed that the title was clearly unfinished, with more bugs than 007: Nightfire (read: a lot!) and a fairly monotonous Quake-like gaming experience (graphics weren't far off either). Let's hope that these issues are fixed by the time the game finally goes gold.
Overall, it was a fairly enjoyable evening and it's certainly nice to see manufacturers such as ABIT, VIA and Creative concentrating on markets other than the US. This is not only a logical business decision, but it also allows consumers in Australia and other areas of the world to enjoy the same level of competition, variety and quality seen in the US and Taiwan.