Asus Transformer AiO boots Windows 8 and Android
Of all the new gear being shown off at Computex 2012 in Taiwan today, I think the sweetest device we've seen so far is the Asus Transformer AiO.
Yes, this 18.4-inch desktop computer boots two operating systems: Microsoft's long-awaited Windows 8 and Google Android 4.0 (Ice Cream Sandwich).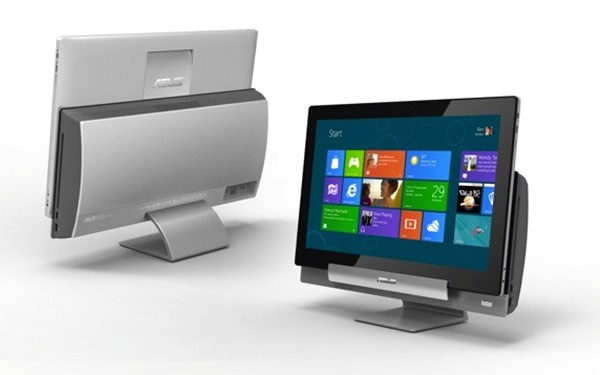 Although we don't have all the details on the Transformer AiO at this point, we do know the 18.4-inch screen can be detached - turning the system into a massive tablet.
In tablet form, the AiO is equipped with a stand on the back to prop the system up - similar to a picture frame.
When run in tablet mode, the massive screen offers much of the same performance as when docked on the standing base.
Personally, I suspect Android will be set as default mode for the display/tablet option, with Windows running on the more traditional computer configuration. The display - which supports 10 points of multitouch - is LED backlit and probably at least 720p.
Another Asus cool device at Computex 2012? The Taichi notebook, which boasts a dual screen configuration available in 13.3-inch and 11.6-inch versions. One display is located on the front of the computer above the keyboard (like a traditional notebook), with a smaller, secondary screen on the outside or backside of the cover.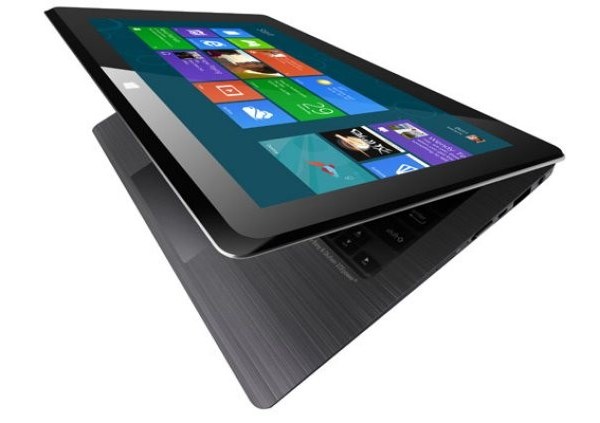 Both the Both the 13.3-inch and the 11.6-inch versions of the Taichi support 1080p resolution with Super IPS+ technology. Hardware includes Intel Core i7 Ivy Bridge options, 4 GB of RAM, SSD storage, dual band 802.11n Wi-Fi and USB 3.0 ports.
And last but certainly not least, Asus is showing off its Tablet 600 and Tablet 810. Both devices run Windows 8 with a slight difference - the Tablet 600 is ARM based, while the 810 is powered by an x86 chip.
Indeed, the 600 is loaded with a quad-core Tegra 3 processor, 2 GB of RAM and a 10.1-inch 1366 x 768 Super IPS+ display.
The tablet also features an eight-megapixel camera on the back with LED flash, a two-megapixel camera up front for video conferencing, Wi-Fi, Bluetooth 4.0, GPS, a gyroscope, E-compass and NFC technology.
Meanwhile, the 810 is powered by an Intel Medfield with 2 GB of RAM - offering the same screen tech as the 600, but measuring 11.6-inches. The tablet is also equipped with a Wacom dual digitizer supporting pen and finger input, which should should make this device particularly appealing to those who like to doodle or draw digitally. Unfortunately, there is no word on pricing or availability this point.